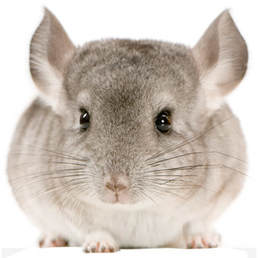 Chinchillas
Names:
Cocoa and Chewbacca
Native Habitat:
Andes Mountains, Peru, at elevations of
9,800 to 16,400 feet
Lifespan:
10-12 years
Food:
Grass
Cool Fact:
Chinchillas have some of thickest fur of any animal in the world. They need it, too!
---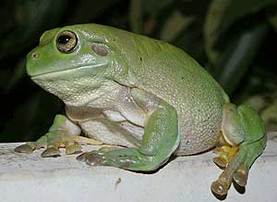 White's Tree Frog
Litoria caerulea

Names: Kermit and Kermit
Native Habitat: Australia,New Guinea, Indonesia, coastal forests
Lifespan: 10 years
Food: crickets and other insects, worms
Cool Fact: They can change colors! As their bodies change temperature, they will slowly change from a bright green to brown, or from a light blue to a soft green.





---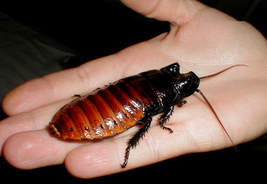 Hissing Cockroaches
Gromphadorhina portentosa
Names:
We have too many to name them all!
Native Habitat:
The island of Madagascar. They live inside rotting wooden logs.
Lifespan:
1-5 years
Food:
Vegetables
Cool Fact:
The Madagascar hissing cockroach has been popular in the movies. They featured prominently in
Bug
(1975) as cockroaches who could set fires by rubbing their legs together and, in
Damnation Alley
(1977), as post-nuclear-war mutant armor-plated "killer" cockroaches. In
Starship Troopers
, a movie about a war against an enemy called "The Bugs", a teacher is shown encouraging her students to step on this species as part of a TV propaganda broadcast.
---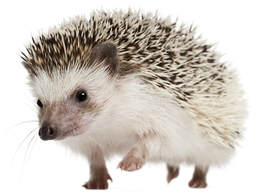 White-bellied hedgehog / African Pygmy Hedgehog

Name: Quillico Jack
Native Habitat: Western Africa
Lifespan: 8-10 years
Food: Vegetables and insects
Cool Fact: Hedgehogs have a habit called "self-anointing." Particular smells cause them to salivate profusely and spread the saliva over its back. No one is entirely sure why hedgehogs do this, but it is not a cause for concern.



---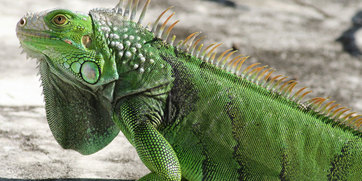 Green Iguana
Iguana iguana

Name: Crystal
Native Habitat: Tropical forests of the Americas, Florida
Lifespan: 10-12 years in the wild, up to 20 in captivity
Food: Greens, fruit
Cool Fact: Crystal was a gift from Ms. Siobhan to Mr. Sean on their 15th wedding anniversary. The traditional anniversary gift for that number of years married is ....... crystal. Fortunately, Mr. Sean though this was funny, and they are still married.




---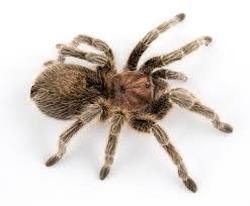 Chilean Rose Tarantula / Chilean Fire Tarantula
Grammostola rosea

Name: Rosie
Native Habitat: Chile, Argentina, Bolivia
Lifespan: Desert and dry areas
Food: grasshoppers, crickets, moths, beetles, cockroaches, mealworms,
Cool Fact: These tarantulas get most of the moisture they need from fog. They can survive for months without food or water. (note: we feed and water Rosie every week)




---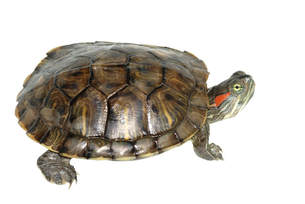 Red-Eared Pond Slider
Trachemys scripta elegans

Names: Eddie and Emily
Native Habitat: Mexico, Southern central US
Lifespan: 40-50 years
Food: fish, insects
Cool Fact: Red eared sliders have beautiful patterns on the bottom of their shell or carapace that are unique to the individual.






---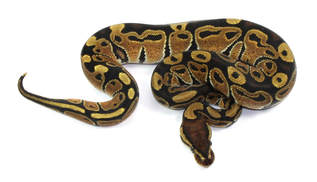 Ball Python / Royal Python
Python regius


Name:
Penelope

Native Habitat:
Grasslands,
savannas
, and sparsely wooded areas of
Africa

Lifespan:
25-30 years

Food:
Mice and rats

Cool Fact:
This snake gets its name from its behavior of curling up into a tight ball with head tucked in the middle when it is threatened or stressed.
---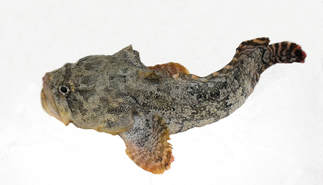 Oyster Toadfish ("Ugly toad, Oyster cracker")
Opsanus tau
Native Habitat:
estuaries in North Carolina
Lifespan:
5-7 years
Food:
small fish and marine animals
Cool Fact:
In 1998,
NASA
sent the oyster toadfish into space to investigate the effects of
microgravity
.
---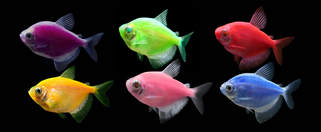 GloFish
Danio rerio
Native Habitat:
The original zebrafish is a native of rivers in
India
and
Bangladesh
.
Lifespan:
3 years
Food:
Fishfood
Cool Fact:
GloFish
are a
patented
and
trademarked
brand of
genetically engineered
fluorescent fish. The source of their color is DNA, not any kind of injected dyes.
---